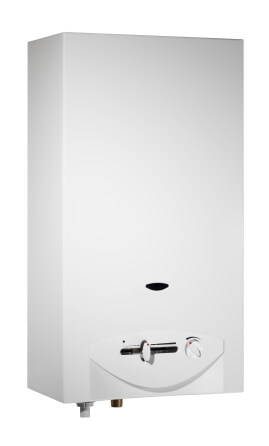 THE PRODUCT:
Boilers heat water that is then used to heat a home using a hot water or steam distribution system. The technology used for steam boilers is the same as for hot-water boilers, except that circulating pumps are not used in steam boilers. Boiler capacities range greatly, but they tend to be higher than furnace capacities.
THE STANDARD:
Standards for residential boilers were included in the Energy Independence and Security Act (EISA) of 2007 and apply to gas-fired hot water boilers, gas-fired steam boilers, oil-fired hot water boilers, oil-fired steam boilers, and electric hot water boilers with an input of less than 300,000 Btu per hour manufactured after September 2012. The standards for each type of boiler include a requirement for annual fuel utilization efficiency (AFUE) and/or design requirements. AFUE refers to the portion of energy in the fuel that is converted to useful heat. The current standards for residential hot water boilers require a minimum efficiency of 82% for gas-fired equipment and 84% for oil-fired equipment.
In January 2016, DOE adopted new standards for boilers which will raise the minimum efficiency levels to 84% and 86% for gas-fired and oil-fired hot water boilers, respectively. DOE estimates that boilers meeting the new standards sold over 30 years will reduce national energy consumption by 0.16 quadrillion Btus and net savings of $0.35-1.2 billion for consumers. The new standards for residential boilers will take effect in 2021.
KEY FACTS:
About 11 million US homes are heated with boilers using either gas or heating oil.  About 60% of homes heated by gas boilers and 80% of homes heated by oil boilers are in the Northeast. The new standards can be met by increasing the size of the heat exchanger. However, higher efficiency levels that would save almost five times as much energy as the standards in the final rule could be met using condensing technology. Condensing boilers extract additional heat by condensing the water vapor in the flue gases, resulting in efficiency levels of 90% or higher.