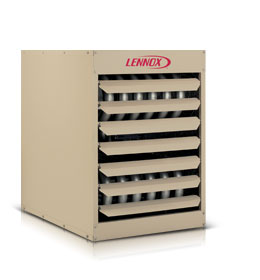 THE PRODUCT:
Unit heaters are self-contained fan-type heaters designed to be installed within the heated space. They are used to heat open commercial spaces such as factories, warehouses, and garages, and are typically hung from ceilings.
THE STANDARD:
The Energy Policy Act (EPAct) of 2005 set the first national standards for unit heaters. The EPAct standards were based on standards that had previously been adopted by several states. The standard, which took effect in 2008, requires that unit heaters be equipped with an intermittent ignition device and have either power venting or an automatic flue damper.
Most gravity and power vented unit heaters have a thermal efficiency of 80%. The ASAP/ACEEE report, The Efficiency Boom, analyzed a standard level of 90% thermal efficiency, which represents condensing technology. This standard level has an incremental cost of $2,640 and a 10 year payback period. Annual savings in 2035 are estimated at 120 trillion Btu and net present value savings on purchases through 2035 are $1.3 billion.
KEY FACTS:
Annual shipments are estimated at 220,000.