More than 40% of the way through this presidential term, the Biden administration has a long way to go on updating appliance efficiency standards. 
If the Department of Energy (DOE) updates standards for 50 products by the end of this term, it can avert 3 billion metric tons of greenhouse gas emissions while saving households $230 annually on utility bills.   
But in the second edition of our progress tracker, published below, we find that while DOE has made some notable progress in recent months, the overwhelming bulk of the work still lies ahead.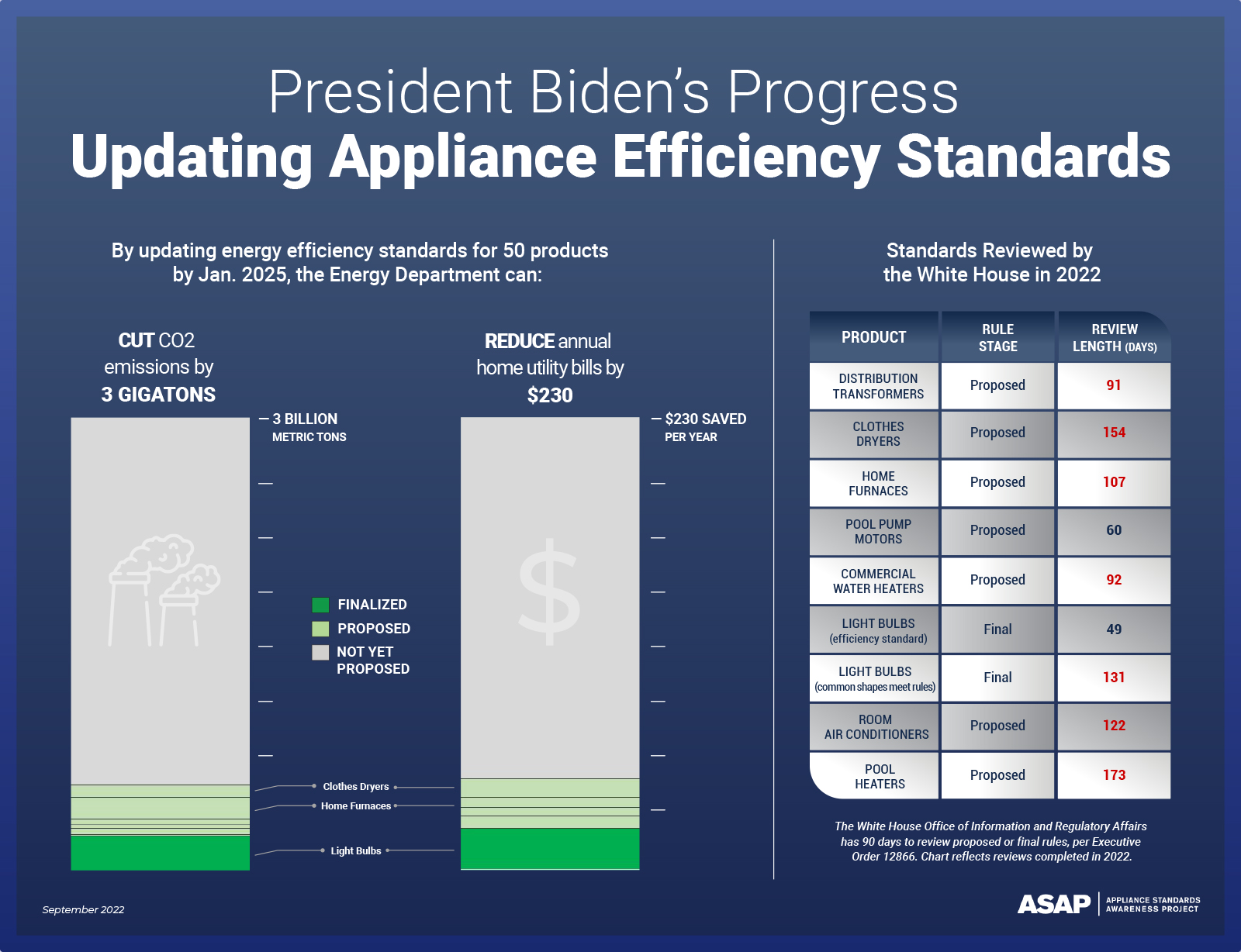 Since we published the previous edition of our tracker in April 2022, DOE has finalized a pair of key rules ensuring several common types of light bulbs are efficient. And it has proposed several other significant standards, such as those for clothes dryers and home furnaces. 
In June, DOE set a pretty strong plan for its upcoming actions—including a schedule for dozens of standards to be proposed—as part of the administration's semiannual regulatory agenda. That plan was bolstered this month when the department committed in a settlement agreement to court-approved deadlines for issuing final standards for many of the products. 
Now, the administration must get the job done. But that will require a more concerted, expeditious effort than we have seen thus far. 
White House Reviews Have Slowed Progress 
Many standards are reviewed by the White House Office of Information and Regulatory Affairs (OIRA) before they are proposed and again before they are finalized. Under a long-standing executive order, these reviews are supposed to take no more than 90 days. In many cases, the rules being reviewed do not present novel technical or analytical issues and should not take nearly 90 days to be reviewed (and some should not be reviewed by the office in the first place). 
Our tracker shows that many of those reviews—7 of 9 completed this year—have taken longer than 90 days. The review of a straightforward proposed new standard for pool heaters took the longest, at 173 days. 
Here's the problem: missing deadlines on these reviews is not compatible with getting the job done. It's hard to see how the administration meets its own commitments to address the climate crisis if it can't get efficiency standards done in a timely way.   
The president recently nominated Richard Revesz, a well-respected law professor and regulatory expert, to head OIRA; he'll face a Senate committee today considering his nomination. If Revesz is confirmed, he'll be in a position to help ensure that reviews do not extend beyond 90 days. 
The clock is ticking. Delays mean risking not getting the job done altogether. And each additional month a standard is delayed means tens of thousands more inefficient products are sold, in many cases to be used for years and years, leading to higher energy bills and needless climate pollution.