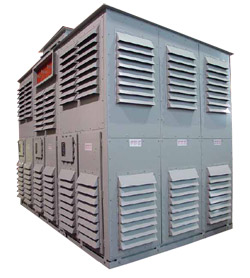 THE PRODUCT:
Medium-voltage dry type transformers (MVDT) are generally used in industrial facilities to reduce voltage to the values necessary to power industrial equipment, lighting, and other products. Unlike liquid-immersed transformers, these are generally business-owned. The utility customer purchases electricity at a voltage level that must be stepped down to voltages used for powering equipment. "Dry type" is a reference to the type of insulation medium, which means that the core and coil is cooled and insulated by air, as opposed to "liquid-immersed" transformers that use oil as the coolant/insulant. Medium-voltage transformers have a primary rated voltage between 601 V and 35 kV.
THE STANDARD:
Initial standards for medium-voltage dry-type transformers were set by DOE in 2007 and became effective in January 2010. In March 2010, DOE began a new rulemaking to update standards for the three main categories of distribution transformers: liquid-immersed, low-voltage dry-type and medium-voltage dry-type. In the April 2013 final rule, DOE selected MVDT standards based on levels agreed to by industry and efficiency proponents during earlier negotiations facilitated by DOE. The minimum efficiency levels vary by voltage and equipment class. According to DOE, the updated MDVT standards will decrease electrical losses by about 13 percent compared to products meeting current standards and will reduce CO2 emissions nationwide by about 20 million metric tons on transformers purchased through 2045. The standards went into effect on January 1, 2016.
In September 2021, DOE published a final rule for the distribution transformer test procedure, effective mar 14, 2022. 
KEY FACTS:
Transformers are generally very efficient — electricity losses are usually below 1 or 2%. However, since all power generated goes through one or more transformers, even small improvements can yield very large national savings benefits. In general, transformers can be made more efficient by using better quality windings (which can be aluminum or copper) and through improved core designs, material (electrical grade steel), and construction. Amorphous core material offers the biggest step up in efficiency.