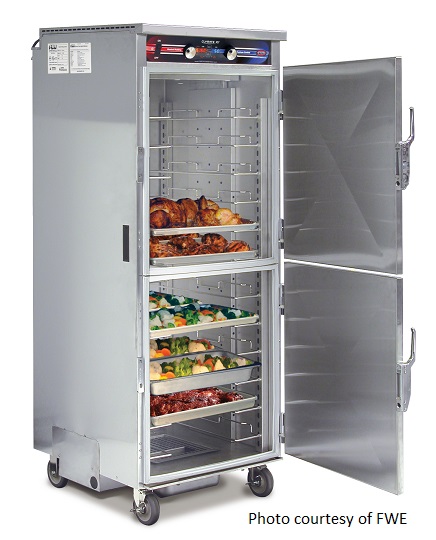 THE PRODUCT:
Hot food holding cabinets (HFHC) are used in hospitals, schools and other applications for storing and transporting food at a safe serving temperature. They are freestanding metal cabinets with internal pan supports for trays. Most are made of stainless steel and are insulated; however, there are some models that are non-insulated and are often made of aluminum. The main energy-using components include the heating element and the fan motor.
THE STANDARD:
The first ENERGY STAR specification for HFHC set a maximum idle energy rate for hot food holding cabinets of 40 W per cubic foot of measured interior volume. In December 2004, the California Energy Commission adopted this level as a statewide minimum standard. The same standard was subsequently adopted by Connecticut, Washington D.C., Maryland, New Hampshire, Oregon, Rhode Island and Washington. DOE is not currently required to set standards for these products. New ENERGY STAR specifications (Version 2.0), which went into effect in July 2011, set a maximum idle power consumption level based on the measured interior volume. For a 20 cubic foot unit, the new ENERGY STAR spec will limit idle power consumption to 294 W, which represents energy savings of 63% compared to the earlier spec.
KEY FACTS:
Appropriate insulation in hot food holding cabinets is the key mechanism for reducing energy consumption. Insulated cabinets also have the advantage of quick preheat times, less susceptibility to ambient air temperatures, and a more uniform cabinet temperature. Other features that reduce heat loss include automatic door closers, magnetic door gaskets, and Dutch doors (half-doors).