For more information, contact:
Marianne DiMascio, ASAP, mdimascio@standardsasap.org
Casey Skeens, ACEEE, cskeens@aceee.org
 

WA and CO Join Growing State Push for Efficient Appliances
 Joint Statement by ACEEE's Steve Nadel and ASAP's Marianne DiMascio
(May 7, 2019) — Washington and Colorado state legislatures adopted energy and water efficiency standards that will dramatically cut harmful carbon emissions and save consumers billions (more than $2 billion in Washington and $1 billion in Colorado), partly by pushing forward low-cost, uber-efficient light bulbs. They follow similar efforts in Vermont and California that other states are now considering. Washington Governor Jay Inslee will sign HB 1444 into law today and Colorado Governor Jared Polis is expected to sign HB19-1231 in the coming weeks.
Steve Nadel, ACEEE's executive director said:
"Washington and Colorado are leading the way on efficiency standards. The new laws will save consumers money and water while putting a dent in the power plant emissions that contribute to climate change. We urge other governors and legislatures to join Washington, Colorado, Vermont, and California in adopting these common-sense standards. In addition, by putting the federal light bulb standards into state law, Washington and Colorado are fighting back against the Trump administration's attempt to undo the biggest-saving standard ever. Unlike the federal government, the states are moving forward, not backward, on energy efficiency."
Marianne DiMascio, ASAP's state policy manager, said:
"States are discovering that appliance efficiency standards are a grand slam. They help cut heat-trapping emissions, save energy, reduce water waste, and save consumers and businesses hundreds of millions of dollars. It's a win for any state!"
Washington and Colorado are the second and third states after Vermont to adopt this latest package of state appliance standards, many of which are based on California standards. Similar bills are pending in Connecticut, Massachusetts, and Rhode Island among other states. An appliance standards bill for five products also passed the Hawaii legislature last week and awaits the governor's signature. 
Additional information: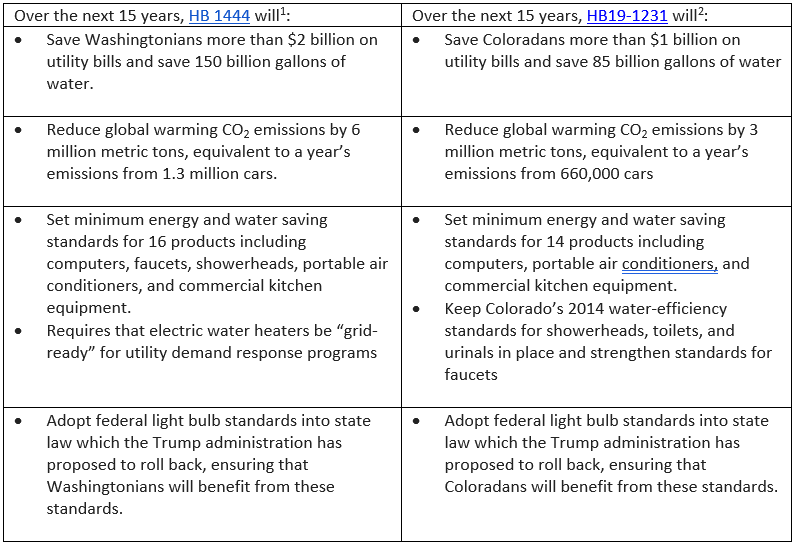 The American Council for an Energy-Efficient Economy acts as a catalyst to advance energy efficiency
The Appliance Standards Awareness Project organizes and leads a broad-based coalition effort that
works to advance, win, and defend new appliance, equipment, and lighting standards which deliver large energy and water savings, monetary savings, and environmental benefits.
[1] According to the Washington State Department of Commerce
[2] Based on data from the Appliance Standards Awareness Project