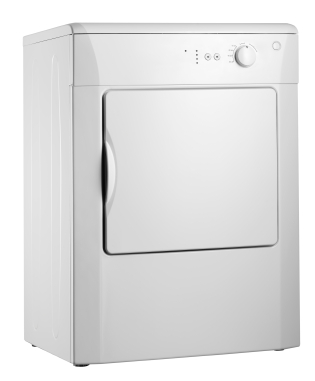 THE PRODUCT:
Clothes dryers include both electric and gas dryers. Most clothes dryers vent the exhaust air outside, although there are also ventless dryers, which are common in areas where space for venting is restricted (e.g., apartments).
THE STANDARD:
DOE finalized the current standards for clothes dryers in 2011, and they took effect in 2015. The standards, which were based on a consensus agreement between manufacturers and efficiency advocates, specify a minimum combined energy factor (CEF) for each type of dryer. CEF is expressed in terms of pounds of clothes dried (bone dry weight) per kWh of energy consumed. The minimum CEF levels for standard-size electric and gas dryers are 3.73 and 3.30, respectively. The current standards represent energy savings of 5% relative to the previous standards, which were in effect from 1994 until 2015.
KEY FACTS:
About 80% of US households have a clothes dryer, and of those, about 80% utilize an electric clothes dryer. The first ENERGY STAR specification for clothes dryers took effect in 2015. Clothes dryers meeting the ENERGY STAR specification use 20% less energy than dryers just meeting the minimum standards and typically employ improved automatic termination sensors to avoid wasted energy from over-drying clothes. Manufacturers have also recently introduced heat pump clothes dryers to the US market, which can reduce energy use by up to 50% or more.