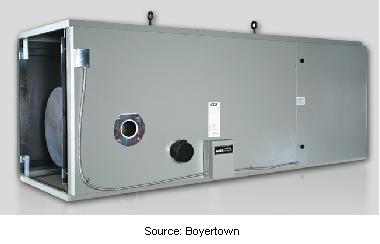 The Product:
Commercial warm air furnaces are defined as units with capacities of at least 225,000 Btu/hr (British Thermal Units per Hour). They are designed to supply heated air through a duct system. In practice, commercial furnaces are gas or propane heating sections of packaged roof-top units (RTUs) used for small- to mid-sized commercial buildings. RTUs are essentially air conditioners that may also contain a heating section.
The Standard:
Congress established the first national standards for commercial warm air furnaces as part of the Energy Policy Act of 1992. The standards took effect in 1994 and specify minimum thermal efficiency levels of 80% for gas-fired equipment and 81% for oil-fired equipment.
In April 2015, DOE formed a working group to negotiate new energy conservation standards for commercial warm air furnaces. The working group recommendations, which raise the efficiency levels to 81% and 82% for gas-fired and oil-fired equipment, respectively, were ultimately adopted by DOE in a December 2015 direct final rule. The new standards will take effect on January 1, 2023.
Key Facts:
Much greater energy savings from commercial warm air furnaces are possible using condensing technology. Condensing furnaces extract additional heat by condensing the water vapor in the flue gases and reach efficiency levels of 90% or higher.