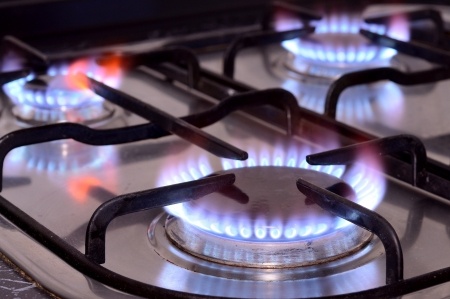 THE PRODUCT:
Cooking products include gas and electric cooking tops and ovens. A range includes both a cooking top and an oven. 
THE STANDARD:
Congress established the first standards for cooking products in 1987, and they took effect in 1990. The standard prohibited standing pilot lights in gas ranges and ovens that have an electrical supply cord. In a 2009 final rule, DOE extended the "no standing pilot light" requirement to include all gas cooking products whether or not they have an electrical cord.
There are currently no efficiency performance standards for cooking products.
KEY FACTS:
Depending on the specific type of product, the efficiency of cooking tops can be improved by improving the design of the heating element (electric coil cooking tops), improving the efficiency of the power supply used to power the electronic controls (electric smooth cooking tops), or optimizing the burner and grate design (gas cooking tops). The efficiency of ovens can be improved by replacing inefficient linear power supplies with more efficient switch-mode power supplies. The efficiency of gas ovens can be further improved by using more efficient ignition systems.