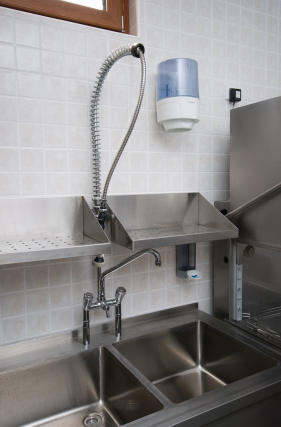 THE PRODUCT:
Pre-rinse spray valves (PRSV) are handheld devices used in restaurants to remove food waste before dishes go into the dishwater.
THE STANDARD:
The Energy Policy Act of 2005 included a standard for these products, building on a standard previously adopted by Arizona, California, Oregon, Rhode Island, and Washington. The federal standard took effect January 2006 and sets a maximum flow rate of 1.6 gallons of water per minute (gpm). Since this is hot water, substantial energy and water is saved. EPA WaterSense (similar to EnergyStar but for water-using products) specifications set the maximum flow rate at 1.28 gpm.
In December 2015, DOE issued new standards for PRSV that define three product classes (depending on the spray force) and set maximum flow rates between 1.0 and 1.28 gpm. The reduction in hot water consumption is expected to save the average restaurant $547 over the 5-year life of the product.
DOE estimates that over 30 years the PRSV standards will reduce national water consumption by 120 billion gallons of water and energy consumption by 0.10 quadrillion Btu. Savings over 30 years are estimated at $0.72-1.5 billion.
The standards took effect in early 2019.
KEY FACTS:
According to DOE, there are an estimated 1.16 million pre-rinse spray valves in the US, with projected shipments of about 230,000 in 2019 when the standard takes effect. The average PRSV lasts about five years.