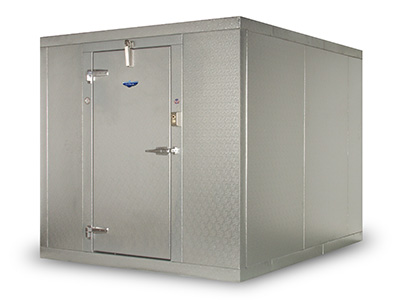 THE PRODUCT:
Walk-in coolers and freezers (walk-ins) are large, insulated refrigerated spaces with access door(s) large enough for people to enter. Walk-ins are used to temporarily store refrigerated or frozen food or other perishable items. The equipment is composed of an envelope (panels and doors) and a refrigeration system.
THE STANDARD:
In 2004, California set the first standards for walk-ins, which were prescriptive requirements for insulation levels, motors, and use of automatic door-closers. Connecticut, District of Columbia, Maryland, Oregon, and Rhode Island later adopted the California standards. In 2007, the Energy Independence and Security Act (EISA) established the first national efficiency standards for walk-ins, which built upon the California standards and took effect in 2009. EISA also directed DOE to establish efficiency performance standards for walk-ins.
In 2014, DOE issued separate performance standards for walk-in panels, doors, and refrigeration systems. The standards for panels and non-display (i.e. solid) doors were set at levels equivalent to the existing prescriptive requirements, which means that manufacturers did not have to make any changes to comply. The new standards for display (i.e. glass) doors and refrigeration systems improved on the existing requirements.
The Air-Conditioning, Heating, and Refrigeration Institute (AHRI) and Lennox filed a lawsuit against the 2014 rule which resulted in a settlement agreement. Among other things, the settlement agreement remanded the standards for certain types of walk-in refrigeration systems to DOE for rulemaking using a negotiated rulemaking process. In 2015, a working group comprised of manufacturers, efficiency advocates, contractors, and DOE successfully negotiated new standards for the remanded equipment types, and DOE published a final rule in 2017 based on the working group recommendations.
The performance standards for panels and doors took effect in June 2017 along with the standards for the non-remanded refrigeration system equipment classes. The standards for the remanded refrigeration types took effect in 2020.
KEY FACTS:
Walk-in coolers and freezers are generally assembled on site from pre-fabricated wall, ceiling, and floor panels; doors; a refrigerator system; and electrical components. Technology options for reducing walk-in energy consumption include improved insulation, higher-efficiency compressors and fan motors, improved heat exchangers, and fan speed control.