For ASAP's first blog, I've scanned the appliance standards archives to bring you the top quotes of 2012. I couldn't resist adding in a favorite graphic as well. 
1. "Collectively, these energy efficiency standards for everyday appliances have saved American families hundreds of billions of dollars and offered consumers more efficient, less costly appliances without sacrificing performance." (May 16, 2012)
Steven Chu, Secretary, Department of Energy (from DOE press release on clothes washer and dishwasher standards)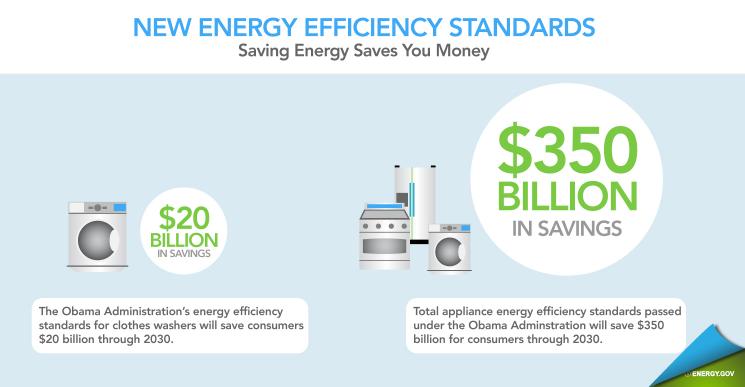 Source: Department of Energy press release, 5/16/12
ACEEE and ASAP estimated that new national clothes washers standards completed in June will save consumers between $400 and $600 on utility bills over the life of a typical washer compared to products meeting current standards. New dishwasher standards were also completed in June and will save buyers about $100 over the life of their product. Both new standards are based on a joint recommendation developed by appliance manufacturers, consumer groups, energy and water efficiency advocates, and environmental organizations. 
2. "Saving money and reducing pollution at the same time is usually a no-brainer. We hope that DOE will come to their senses and strengthen this [distribution transformer] standard." (February 3, 2012) 
Tim Ballo, Senior Associate Attorney, Earthjustice
Tim's to-the-point quote refers to a disappointing proposed rule for distribution transformers which failed to even rise to the levels initially proposed by some manufacturers in earlier DOE-sponsored negotiations. DOE rejected higher standards for utility transformers due to concern that amorphous metal would supplant silicon steel as the core material of choice at a rate that would be disruptive for some market participants.  But, during last year's negotiations, major transformer manufacturers had expressed confidence that amorphous metal and silicon steel would vigorously compete for market share at efficiency levels above DOE's weak proposal which suggests that DOE's concerns are overblown.  For a second class of products, low-voltage, dry-type transformers used in buildings, DOE's proposal also fell short of levels which would lead to the greatest overall savings for purchasers using readily available technology.  DOE's final rule was submitted for OMB review during the fall: we're hoping for an improvement over the proposal. 
3. "Motors use about half of all U.S. electricity, so motor efficiency really matters" (August 20, 2012)
Neal Elliott, Associate Director for Research, ACEEE
Energy efficiency and environmental groups and the National Electrical Manufacturers Association (NEMA) representing  its members who manufacture electric motors, filed a petition August 15 with the Department of Energy recommending new and more robust energy efficiency standards for the types of electric motors used in commercial and industrial applications such as pumps, conveyors, and fans.  The joint proposal would expand coverage of the national standards program to cover many types of previously-unregulated motors and increase standards for motors added by the 2007 energy law.  Standards would be greatly simplified since nearly all motors would have to meet a single level, NEMA Premium efficiency. According to DOE's own analysis, the recommended new standards would save about 4.4 quadrillion Btus of energy by 2044—more energy than the entire state of Florida uses in a year. The standards recommended will also save motor buyers more than $18 billion over that span.
4. "The [battery charger] standards will reduce the wasted electricity from powering our day-to-day appliances by 40 percent and help California meet its strategic climate policy goals." (January 12, 2012)
Dr. Robert Weisenmiller, Chair, California Energy Commission
Dr. Weisenmiller was referring to the first-ever efficiency standards for battery chargers which were set by the California Energy Commission on January 12, 2012. The day-to-day appliances which are powered by these chargers include smart phones, iPads, Kindles, computers, power tools, electric toothbrushes, and many other familiar products. The CEC estimates that the standards will save nearly 2,200 gigawatt hours (GWh) each year -- or enough energy to power nearly 350,000 homes.  And it could be just the thing that pushes DOE to stronger federal standards for the 400 million(!) new chargers that are sold every year in the U.S.
5. "…the monetary benefits dwarf the costs…" (November 10, 2012)
Cass Sunstein, Former Administrator, U.S. Office of Information and Regulatory Affairs
It's great to have a cost-benefit and regulatory expert of Cass Sunstein's stature tout standards and encourage further advances.  This quote from a NY Times Op-Ed speaks for itself: 
"...recent rules from the Department of Energy are requiring greater energy efficiency from appliances like refrigerators, washing machines and small motors. For these rules as well, the monetary benefits dwarf the costs, and they include large savings to consumers as well as pollution reductions. There is a lot more to achieve in the area of energy efficiency, especially as technologies advance and continue to transform the once-impossible into the eminently doable." 
Sign up to have future ASAP blogs delivered to you by RSS feed here.