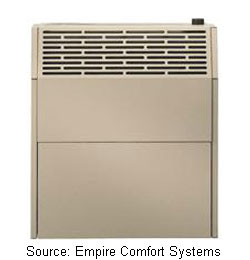 THE PRODUCT:
Direct heating equipment refers to gas wall heaters, floor heaters, and room heaters. Unlike gas furnaces, direct heating products do not use ducts to move heated air throughout a home, but rather provide heat directly to the area where they are installed.
THE STANDARD:
DOE finalized the current standards for direct heating equipment in 2010, and they took effect in 2013. The standards specify minimum annual fuel utilization efficiency (AFUE) levels, which vary depending on the specific type of product and heating capacity.
In 2016, DOE published a determination finding that more stringent standards for direct heating equipment would not be economically justified. 
KEY FACTS:
Direct heating products are primarily sold as replacement units.