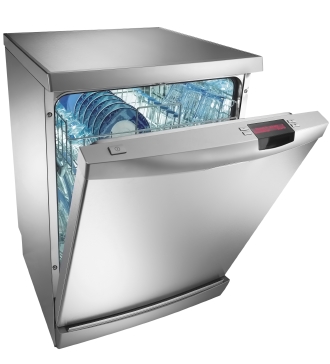 THE PRODUCT:
Most dishwashers are classified as "standard" size, which means that they can hold at least eight place settings. "Compact" dishwashers have capacities of less than eight place settings.
THE STANDARD:
DOE finalized the current standards for dishwashers in 2012, and they took effect in 2013. The standards, which were based on a consensus agreement between manufacturers and efficiency advocates, specify minimum energy and water efficiency levels. The standards require that standard-size dishwashers use no more than 307 kWh per year and 5.0 gallons of water per cycle. Relative to the previous standards, which were in effect from 2010 to 2013, the current standards represent energy savings of 14% and water savings of 23%.
KEY FACTS:
Dishwashers meeting the ENERGY STAR specification (Versions 6.0) use no more than 270 kWh per year and 3.5 gallons per cycle.