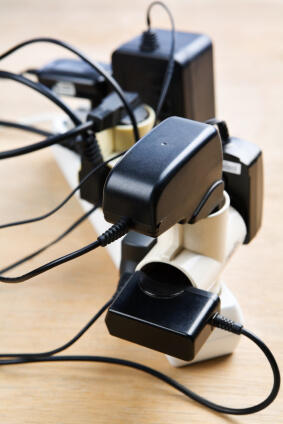 THE PRODUCT:
External power supplies (EPS), also known as power adapters, are the small black boxes on the cord of many small or portable electronic devices such as laptop computers, tablets, modems, computer speakers, and cordless and cell phones. Power supplies convert household electric current (around 120 volts in the United States) to lower AC or DC voltages on which many electronic products operate.
THE STANDARD:
The Energy Independence and Security Act (EISA) of 2007 established standards for single-voltage EPSs with output power ≤250 W, which became effective in 2008. In active mode, devices supplying greater than 51 W are required to achieve 85% efficiency. Maximum standby power consumption for all output wattages is 0.5 W.
In February 2014 , DOE published a final rule strengthening efficiency requirements for the single-voltage EPSs and expanding coverage to other EPS types such as multiple-voltage, high-power, medical, and EPSs for motorized applications and detachable battery packs. The new standards will cut adapter energy use by 30 to 85% depending on the device. According to DOE, over thirty years of sales, net consumer savings will amount to about $3.8 billion. The standards went into effect in February 2016.
A 2016 rulemaking codified provisions of the 2014 legislation that exempted certain service or spare part EPSs from efficiency standards. 
KEY FACTS:
According to DOE, annual shipments number about 345 million EPS units with the new standards affecting about 75-80% of those sales. Technology options for improving the efficiency of EPSs include improved transformers, low-power integrated circuits, and low-loss transistors.