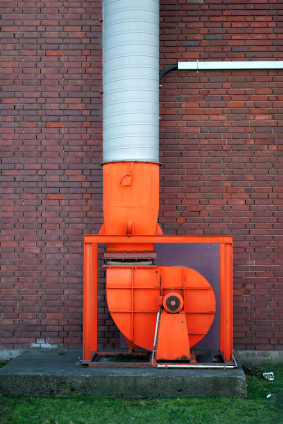 THE PRODUCTS:
Commercial and industrial fans and blowers are used in a wide variety of applications such as commercial building HVAC systems, commercial kitchen exhaust systems, industrial processes, and agricultural ventilation.
THE STANDARD:
There are currently no minimum efficiency standards for commercial and industrial fans. In 2015, a DOE-convened stakeholder working group reached consensus on a number of items related to potential test procedures and standards for commercial and industrial fans. However, DOE has not yet published a proposed rule for either test procedures or standards. In 2017, the California Energy Commission (CEC) opened a new docket to begin considering standards for fans. 
KEY FACTS:
The efficiency of a fan varies widely across its operating range (i.e. airflow and pressure points), and a fan with a very efficient design can perform very inefficiently if not properly applied. Therefore, improved fan selection represents a huge opportunity for energy savings. Additional opportunities for energy savings include improved aerodynamic design and more-efficient transmission, motors, and motor controllers.