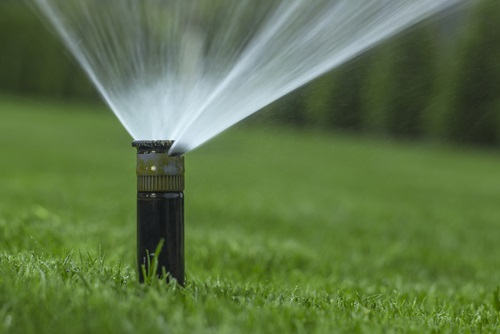 THE PRODUCT:
Lawn spray sprinklers (spray sprinkler bodies) are used as part of in-ground irrigation systems. 
THE STANDARD:
There are no national standards for lawn spray sprinklers. In May 2018, Vermont adopted state standards based on WaterSense Version 1.0, which was issued in September 2017. Lawn spray sprinklers have a recommended operating water pressure, but in most cases the actual operating pressure is significantly higher, which results in wasted water, misting, and uneven coverage. The WaterSense specification for lawn spray sprinklers applies to the sprinkler body (the exterior shell of the spray sprinkler that connects to the irrigation system piping and houses the spray nozzle.) The WaterSense draft specification effectively requires that sprinkler bodies contain internal pressure regulation. Lawn spray sprinkler bodies that meet the WaterSense specification can reduce water use by 10% on average.
KEY FACTS:
EPA estimates that more than 13 million US homes have automatic lawn irrigation systems, and about half of all residential outdoor water use is for spray irrigation. EPA estimates that roughly 10% of current irrigation systems use sprinkler bodies with internal pressure regulation.