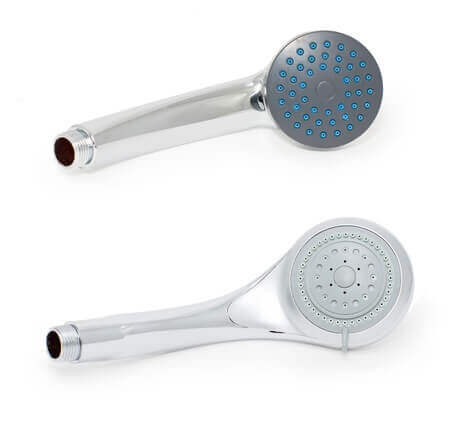 THE PRODUCT:
A showerhead is a plumbing fixture that directs water onto a bather.
THE STANDARD:
Congress established national showerhead standards as part of the Energy Policy Act in 1992, and they took effect in 1994. The standards set a maximum flow rate of 2.5 gpm (gallons per minute).
Congress instructed DOE to update the standards when the American Society of Mechanical Engineers (ASME) amended their standards. In December 2010, with no ASME revisions on the books, DOE officially waived federal preemption of the national showerhead standards. This waiver of federal preemption allows states to set standards provided they are more stringent than the national standard.
Showerheads that use no more than 2.0 gpm can earn the WaterSense label. WaterSense is an EPA partnership program (similar to EnergyStar) which identifies products that save water and energy, save money, and meet a minimum threshold of performance.
In 2010, New York City set showerhead standards at 2.0 gpm, effective July 2012, followed by Colorado in June 2014 and Vermont in May 2018. In California, following the Governor's 2015 emergency declaration (drought-related), the California Energy Commission (CEC) set a 2-tier showerhead standard. Tier 1, effective July 1, 2016, set a maximum flow rate of 2.0 gpm. Tier 2, effective July 1, 2018, set a maximum flow rate of 1.8 gpm. The CEC also set minimum performance requirements to ensure consumer safety and satisfaction. 
In 2019, Hawaii and Washington state, adopted showerhead standards at 1.8 gpm, and New York state adopted showerhead standards at 2.0 gpm.
KEY FACTS:
According to EPA's WaterSense, if every household in the US switched to a 2.0 gpm WaterSense labeled showerhead, "we could save more than $2.9 billion in water utility bills and more than 260 billion gallons of water annually. In addition, we could avoid about $2.5 billion in energy costs for heating water." They note that showering accounts for about 17% of indoor residential water use.
ASAP estimates that 73 % of showerhead models on the market already meet WaterSense standards.