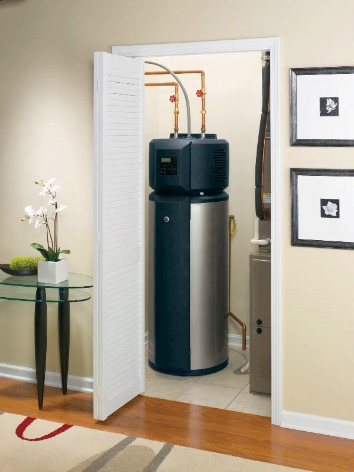 THE PRODUCT:
Residential water heaters are used to provide hot water for showering, dishwashing, clothes washing, and other household needs. Residential water heaters use diverse energy sources including electricity, natural gas, propane or fuel oil. There are two main types of residential water heater technology: storage and instantaneous water heaters.
THE STANDARD:
DOE finalized the current standards for residential water heaters in April 2010, and they took effect in April 2015. The efficiency requirements vary depending on the type of water heater and the rated storage volume. For storage water heaters with a volume greater than 55 gallons, the standards require a heat pump efficiency level for electric products and condensing efficiency level for gas products. 
The residential water heater ENERGY STAR specification version 3.2 was released in 2017 and version 3.3 may be released in 2020. Version 3.3 includes "connectedness" criteria for qualified residential water heaters that will allow them to participate in utility demand response programs. In 2019, Washington adopted a design standard, requiring a communication port (CTA-2045 or equivalent) on electric storage water heaters. The port would enable utility programs to manage water heating loads. 
KEY FACTS:
Residential water heating represents 18% percent of total annual household energy consumption in the U.S. About 48% of households have natural gas water heaters, while 45% have electric and slightly more than 6% burn propane or oil.
All storage water heaters waste energy keeping water hot even when no hot water is being used. Thicker tank insulation can decrease standby losses for all types of storage water heaters. Electric heat pump storage water heaters have demonstrated 50% savings in energy use compared to conventional electric storage water heaters and condensing gas water heaters can reduce energy consumption by about 25% compared to conventional gas storage units.