In his State of the Union address last month, President Obama said we need to "act with more urgency" on climate change and also pledged to make this "a year of action." Fortunately, when it comes to new appliance, equipment, and lighting efficiency standards, the administration has already made very good progress. With two new standards completed since his speech and another 10 expected this year, the administration is gaining new momentum for meeting the president's ambitious goal to reduce carbon dioxide (CO2) emissions by 3 billion metric tons through new efficiency standards completed during his two terms. Of course, the efficiency gains that underlie such enormous CO2 reductions also drive huge energy and consumer dollar savings.
Today, we are launching new 'trackers' on the ASAP website to keep tabs on progress. As the CO2 tracker shows, thanks to standards completed to date, the administration is already more than half way to its goal. The Department of Energy (DOE) completed new standards for virtually every major household appliance within the past few years as well as for many commercial products. A significant share of the total savings to date also comes from standards enacted by Congress as part of the Energy Independence and Security Act (EISA) of 2007 (including light bulb standards), signed into law by President Bush and codified into regulations by DOE in 2009.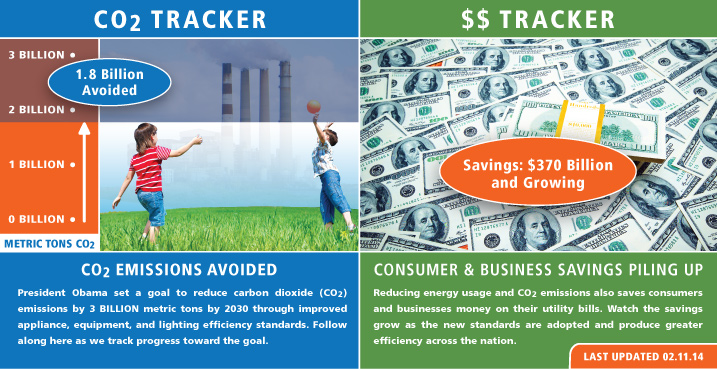 By cost-effectively improving products' energy efficiency, new standards also reduce energy waste and save consumers and businesses money on their utility bills. So, we will also be keeping track of the energy savings that underlie the emissions reductions and the net present value savings that consumers and businesses gain from the new standards. Standards completed to date will save 3.8 trillion kilowatt hours and 1.1 trillion cubic feet of natural gas by 2030. To put those savings in perspective, the electricity savings about equal total U.S. electricity use in 2012 and the gas savings would heat 4 out of every 10 natural gas heated U.S. homes for a year. For consumer pocketbooks, the total net savings now stand at $370 billion. We will update these numbers with each new standard completed.
Meeting the 3 billion metric ton goal will not be easy (the reduction commitment is about equal to a year's output from 850 coal-fired power plants). It's very unlikely that Congress will pass another law like EISA in the near future and many of the biggest energy-using residential products already have updated standards. But work is underway at DOE. We have estimated that additional standards already under development could save about 700 million of the remaining 1.2 billion tons needed to meet the goal. To close the final 500 million ton gap, DOE will need to consider new product categories as well as updates to some existing standards with good savings potential. 
Some of the biggest savers on tap for 2014 include electric motors, which account for about half the electricity used by industry; household furnace fans, which can use as much energy as a refrigerator and dishwasher combined to circulate heated and cooled air through a home's ductwork; and walk-in coolers and freezers.  Most of the remaining standards expected in 2014 will cover commercial equipment and lighting. Successfully completing new residential furnace standards, at long last, would also help meet the goal.
Regular readers of this blog and users of the ASAP website will remember that just a year ago we launched a different kind of tracker---one which tallied the lost savings due to missed deadlines for new standards. What difference a year makes! By reining in energy waste with new standards, the Obama administration has made progress in reducing CO2 emissions while saving money for consumers and businesses at the same time. In the State of the Union Address, President Obama said we need to take action on the climate so we can leave our children a "safer, more stable world." Meeting his objective for new standards is one very concrete action that can help move us down that path.