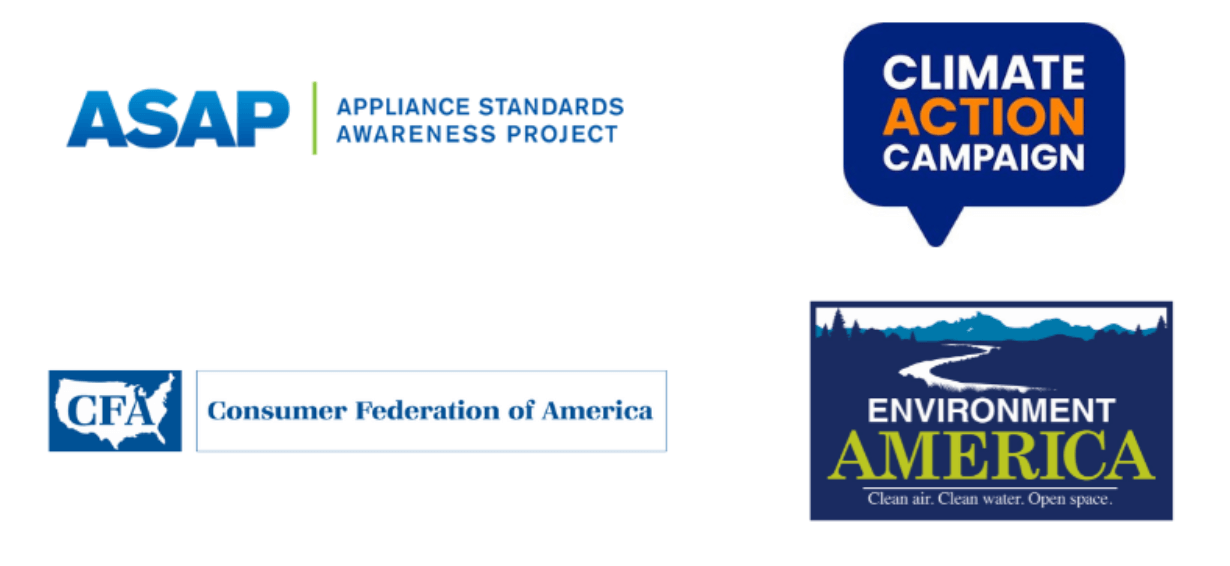 Washington—Consumer, climate, and health advocates called on the U.S. Department of Energy (DOE) Thursday to promptly finalize the water heater efficiency standards it proposed this July. The groups submitted a letter signed by more than 140 organizations and more than 12,000 letters and petition signatures from members of the public supporting the proposal.
Water heaters are the second-largest energy user in U.S. homes—yet most new models use old, inefficient technology, contributing to large energy bills, air pollution, and climate change. The Department of Energy's proposed efficiency standards would deliver the largest energy-saving impact of any such standard developed during this administration.
The administration has pledged to complete appliance efficiency standards that will cumulatively save consumers $570 billion. Finalizing strong standards, alongside Solutions for Pollution across other agencies, will be critical for the Biden administration to meet its goal of cutting climate pollution in half by the end of the decade.
Speaking outside the DOE headquarters this morning, four advocates urged the Department to finalize the rule and delivered the letters from the public. Their remarks included:
Andrew deLaski, executive director of the Appliance Standards Awareness Project, said: "This proposal is a winner. It's going to reduce your costs and it's going to reduce climate pollution. That's a win-win. If this standard doesn't get done, you're probably going to see brand new, inefficient water heaters still sold in 2030 and beyond. That would cost families on their bills, and it would cost our climate."
Johanna Neumann, senior program director at Environment America, said: "In most homes, water heaters are the second biggest user of energy. By embracing a transition away from outdated, inefficient water heating technology, America has the opportunity to take a giant leap toward a cleaner, greener future. We'd be foolish to pass that up."
Susan Weinstock, executive director of the Consumer Federation of America, said: "Utility bills are a critical expense for consumers, and we know that many consumers will skip taking needed prescriptions in order to cover their utility bill. That's why the savings generated from new energy efficiency standards are so important."
Dr. Robert Kitchen, steering committee member of Virginia Clinicians for Climate Action, said: "To address climate change's adverse health effects we need to use every tool in the box. The Energy Department's water heater proposal is one critical tool in this toolbox. We applaud the Department of Energy for taking this step and my hope is that the proposal is successfully implemented as it will have an important beneficial impact on the health of Americans."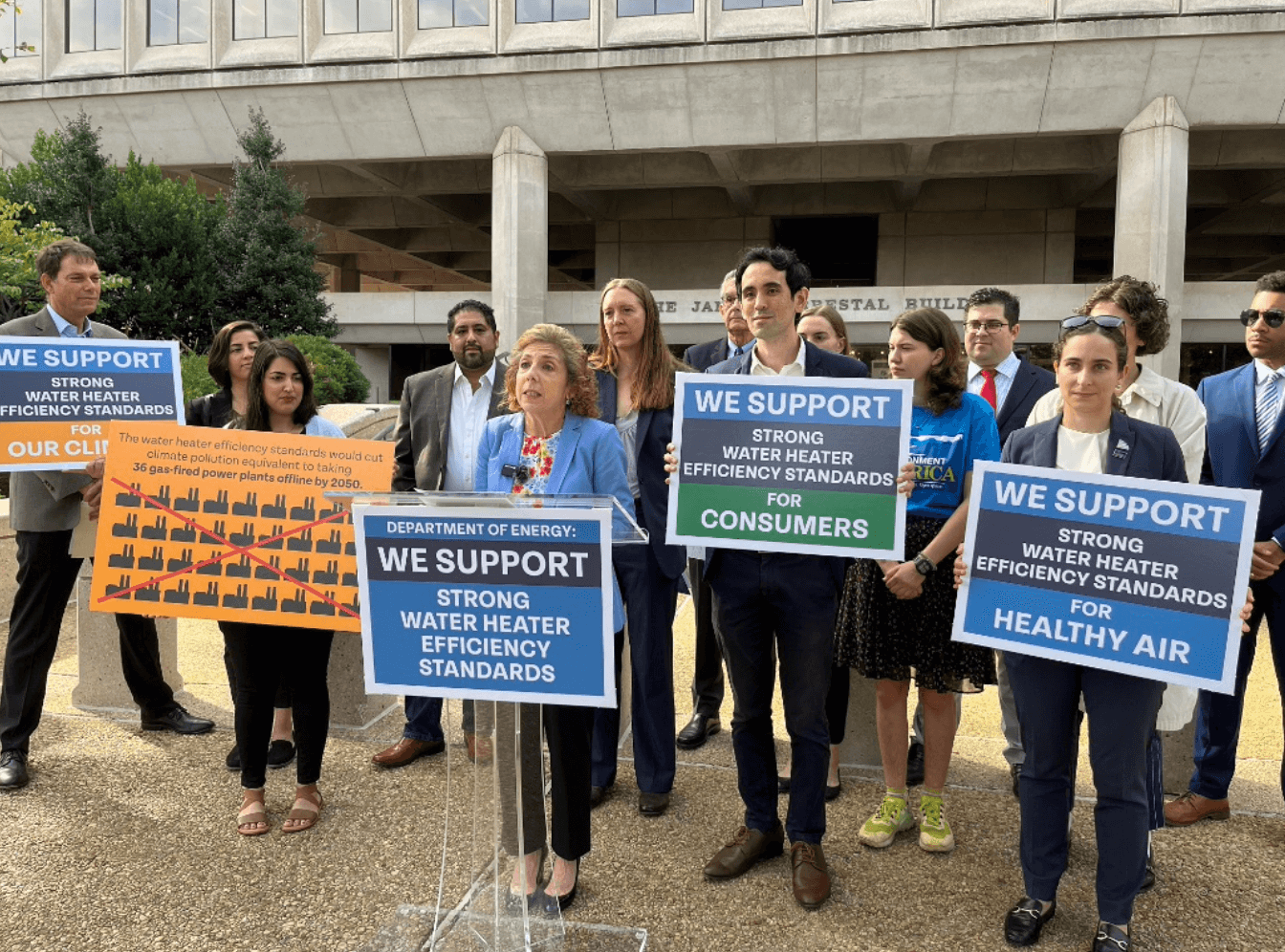 By strengthening the minimum efficiency levels for different types of water heaters—including electric tank water heaters, gas-fired tank water heaters, and gas-fired instantaneous ("tankless") models—the proposed standards would:
Save many households more than $200 each year on utility bills.
By mid-century, cut carbon dioxide emissions by an amount equivalent to those from 36 gas-fired power plants.
The DOE hasn't updated residential water heater standards since 2010. By law, the department was due to propose new standards (or determine that an update was not appropriate) by 2016. The public comment period for the proposed standards closes on Tuesday, September 26.
Contact:
Appliance Standards Awareness Project: Ben Somberg, 202-658-8129, bsomberg@aceee.org
Consumer Federation of America: Richard Eckman, reckman@consumerfed.org
Environment America: Johanna Neumann, 413-367-4794, johanna@environmentamerica.org
###
The Appliance Standards Awareness Project (ASAP) advocates for appliance, equipment, and lighting standards that cut planet-warming emissions and other air pollution, save water, and reduce economic and environmental burdens for low- and moderate-income households. ASAP's steering committee includes representatives from environmental and efficiency nonprofits, consumer groups, the utility sector, and state government.
The Climate Action Campaign (CAC) is a vibrant coalition of dozens of major national environment, environmental justice, and public health groups, working together to drive ambitious, durable federal action based on science, to address the climate crisis. Our goal is to reduce climate pollution and accelerate the transition to clean energy in ways that support justice, jobs, health and economic opportunity for all.
CAC launched the Solutions for Pollution campaign in September 2022, with more than 200 advocacy partners, to encourage the Biden administration to use its existing authority under the Clean Air Act and other laws to set the strongest-science based standards to reduce pollution from transportation, power plants, and appliances, and to set additional standards that protect consumers and investors, lower energy costs, and advance environmental justice.
The Consumer Federation of America is a national organization of more than 250 nonprofit consumer groups that was founded in 1968 to advance the consumer interest through research, advocacy, and education.
Environment America is a national network of 30 state environmental groups. Our staff work together for clean air, clean water, clean energy, wildlife and open spaces, and a livable climate. Our members across the United States put grassroots support behind our research and advocacy. We envision a greener America: one that protects more places where nature can thrive, and offers us and our children a greater opportunity to live healthier, more enriching lives. Through our research, public education, advocacy, litigation and action, we advance policies and practices that put our country and our world on a better path.